Synopsis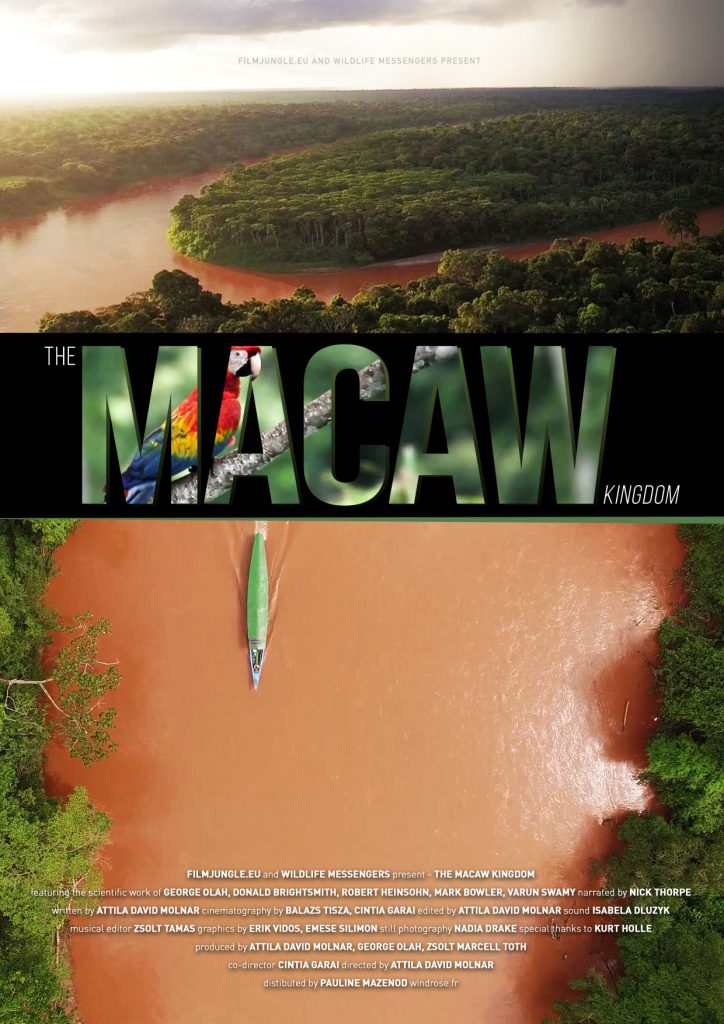 After years of preparation, zoologist George Olah finally got what he wanted. A special permission from the government of Peru. The 50+ page document gave him access to the Holy Grail of parrot researchers: the Candamo Basin, in the Peruvian Amazon. A place where wildlife exists without any human disturbance since the beginning of times. Surrounded by the foothills of the Andes, the Candamo Basin hosts one of the very few uninhabited tropical rainforest of the world. Not even native tribes had settled here and decades had passed since the last camera team dared to sail the hostile rapids of the Candamo river.
In February, 2016 the nine members of an international scientific expedition finally got onboard of an Amazonian motorised canoe. It took 4 days for them to reach the location. After setting up their base camp in the rainforest, researchers climbed giant trees, investigated nest hollows, captured and tagged young macaws and collected blood samples and feathers for genetic analysis. But doing serious scientific work in the Amazon is not an easy feat. Jaguars visit the camp, wasps attack the climbers and parasites hunt and bite every free piece of skin. Despite all the challenges the team returns to the lab with the invaluable samples that can help us understand the status of an isolated parrot population.
Watch it NOW!
[Expedition Edition] narrated in English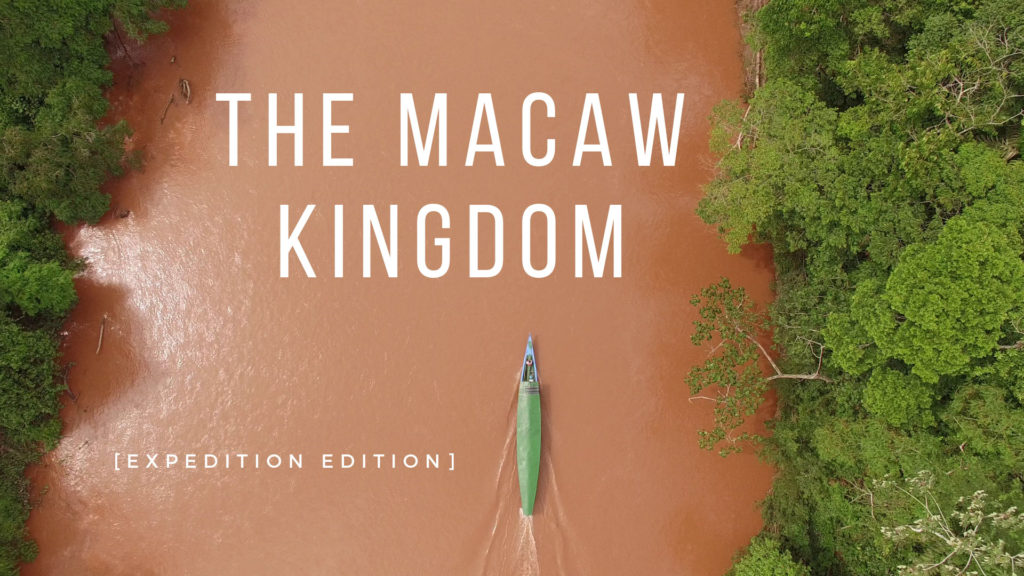 ---
[Popular Science Edition] narrated by the researchers featured in the film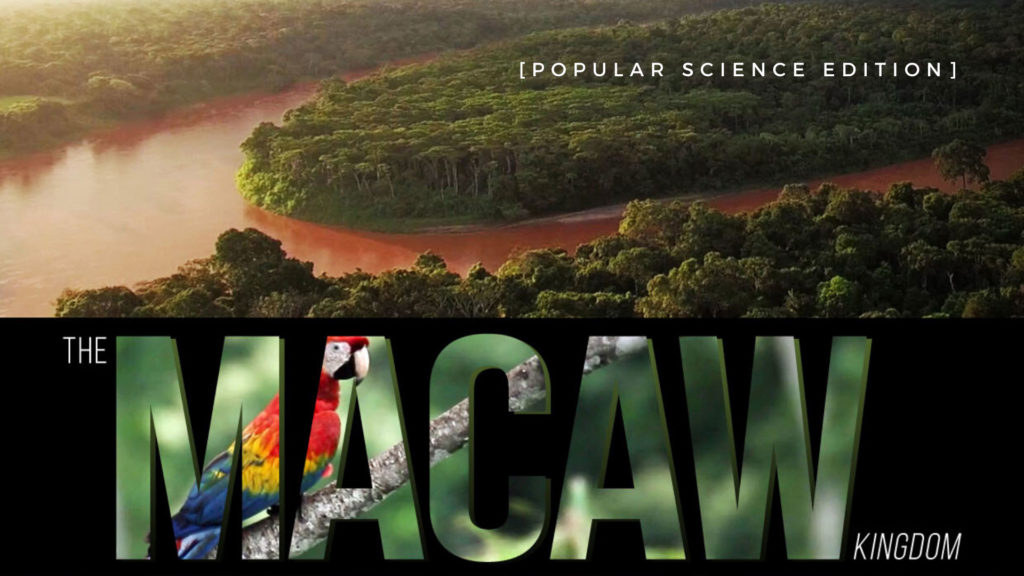 Let FanForce organize a screening in your local cinema on demand
Research Projects in Tambopata, Peru
The Macaw Kingdom is an award-winning documentary featuring the everyday work of scientists in the Tambopata region of Peru, and showing how they collect important scientific data to conserve this biodiversity hotspot.
The first part of this documentary, The Macaw Project started with a crowdfunding campaign at Indiegogo in 2014. Thanks to the initial support of many people, that documentary is getting well known worldwide, participating in film festivals, broadcasted in national TV channels, being translated to 6 languages, and most importantly spreading the word about an important conservation collaboration among researchers, members of native communities, and eco-tourists.
Conservation research in the Peruvian Amazon has a much longer history. Researchers from many different fields study the rainforest ecosystem, from the ground level all the way up to the canopy and even higher with remote sensing. Carrying out field research in such conditions is often very challenging and probably less known by the wider public. We thought we should show how these researchers work in the Peruvian Amazon and take it to your screen.
The featured researchers and their projects in the film:
Film Specifications
Title: The Macaw Kingdom
Duration: 52 mins
Languages: English, Hungarian
Filming Locations: Tambopata (Madre de Dios), Candamo Valley (Puno), Peru
Production: Filmjungle.eu Society and Wildlife Messengers
Commissioned by: Media Council of Hungary and Innóvate Perú
Award: International Film Review / Scientific Documentaries of the International Nature Film Festival (2018)
FilmFreeway: filmfreeway.com/macawkingdom
IMDb: www.imdb.com/title/tt8589864
Cast & Crew
Director – Attila David Molnar
Co-director – Cintia Garai
Filmed by – Balazs Tisza & Cintia Garai
Written by – Attila David Molnar
Music Editing – Zsolt E. Tamas
Scientific Editor – George Olah
Computer Graphics – Erik Vidos & Emese Silimon
Edited by – Attila David Molnar
Sound Mixer – Zsolt E. Tamas
Project Coordinator – George Olah
Producers – George Olah & Zsolt Marcell Toth
Executive Producer – Attila David Molnar
Distributor – Pauline Mazenod, Windrose.fr
Peruvian unit
Braulio Poje Mishaja – boat driver
Edinson Chavez – tripulante
Jerico Solis – field assistant
Puerto Maldonado
Rocio Martinez – permit administration
Cynthia Kalinowski – logistics
Carlos Arias – boat mechanics
Piero Chavez, Harold Arevalo, Kelvin Durand – food and equipment supply
Malú Gutiérrez – administrator, Refugio Amazonas
Gabriela Orihuela – administrator, Wired Amazon
Liz de la Cruz – administrator, Tambopata Research Center
Tim Breur – assistant administrator, Tambopata Research Center
Cesar Carrasco Moroco – assistant administrator, Tambopata Research Center
Liz Paipay – field leader, Tambopata Macaw Project
Willington Aucca Ortiz – finances
Lima
Katia Musucancha, Maria Esther Stagnaro, Jesús Durán – logistics
Ricardo Caipani – supplies and drone permits
Martin Segama – ground transportation
Mario Napravñik – executive director, Rainforest Expeditions
Kurt Holle, Eduardo Nycander – general support, Rainforest Expeditions
Timeline
2015

The Macaw Project

Postproduction of The Macaw Project documentary.

2016 Feb

Filming

Filming the work of many researchers in Tambopata, Peru in the framework of Innóvate Perú.

2016 Nov

Extra funding acquired

A grant from the Hungarian Media Council was given to a new documentary titled The Macaw Kingdom.

2017

Postproduction

Postproduction work of The Macaw Kingdom.

2018 Oct

Release

International release of the documentary.